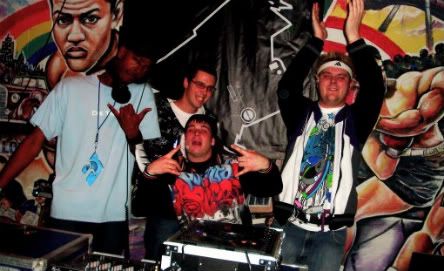 At the very peak of Thunder anticipation, DJ supergroup Disco Aliens plan to invade the Glassworks building at Landing on the Roof this Friday. Hailing from the Midwest, these DJs, Tyrohn Brooks (obitykenobi), Sean Collins (Plexxx), Daniel Batson (Archeon) and Chris Mindel (Elektrolyte) bring you a multi-demensioned experience. Through several mixed tracks and elaborate visual appeals, the Aliens are able to powerfully stimulate their audiences without spiking them with drugs beforehand. Their passion for sound and its potential is apparent through the music selection of their mixes. Many of these can be found and downloaded for free via their website or can be streamed through DJ G.F.G.'s podcast series Sunday Slackin', a soundtrack to your Sundays.
Although they are currently based out of Louisville, the group admits to not often playing local gigs. Many of their events are spread across the Midwest which included appearances at the Land of Nod Experiement, Underground Sound, Forecastle Festival and Halfway to Forecastle. They are preparing to fill a roster of shows for 2011 and intend to transpire new ideas within the studio.
Chris Mindel's basement, known formally as the Spacedome, is where the magic takes place. It's hard not to get engergetic and inspired looking around this home setup. From layered, technicolor banners to the flourescent paint, everything glow-in-the-dark, and two really cute cats, it immersed me in nothing but good vibes. To a group of producers experienced in crowd stimulation, the vibe of a setting is an important factor of ones reaction to the music and overall experience. They hope to bring this good spirit back to Louisville this Friday. Due to travel complications, Sean Collins (Plexxx) was unable to attend this interview.
Disco Aliens will be bringing the house down with Secret Beats, Moogonaughts (G.F.G & John Napier) and Double Stuff (DJ Lady Carol vs Duffy) this Friday, April 15th. 5PM-Midnite, 21+, with a $10 cover charge.
Photos/Video: Lara Kinne; main image taken in Detroit by PictureThisDetroit