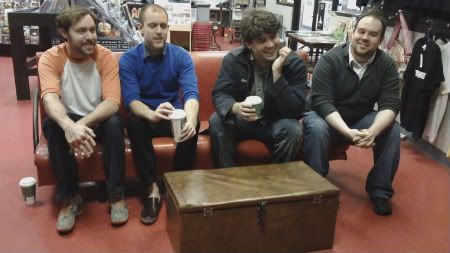 This Friday marks the final performance of Louisville's beloved funky collective,
Lucky Pineapple
, who have graced the local scene for nearly seven years. Reasoning for the breakup remains slightly unclear, but during an interview Monday afternoon, it was apparent that these four members have their sights on endeavors set beyond just playing in a band. Although it was a fun ride, Lucky Pineapple have called it quits for good. However, the things that lie ahead for them could assimilate to be just as fruitful.

Starting out in 2004, the Pineapple began as a concentrated mix of musicians either classically trained or pulled from the Louisville punk scene, theater performers, and improv noise artists. The outcome made for a cultured take on fusing worldly music with the styles of anything it may have dragged along while returning to Louisville. Straight from the opposite hemisphere and into your backyard, Lucky Pineapple's tunes sound like the well-seasoned, juicy piece of refreshing music that you're probably looking for. But don't ask any of them to describe it for you.
They enjoyed modest success during their run, landing a spot at SXSW last year and even getting a song featured on
Jersey Shore
. Their music video for "Moment in an Empty Street" was met with rave reviews after premiering at
Louisville Film Society
's 2nd Annual Showcase of Short Film and Video, and they have shared the stage among bigger names like
Meat Puppets
and
Man Man
. A split 7'' with
Prizzy Prizzy Please
called
The Yellow Belt
was their final release before finally announcing their disbandment in February.
For Lucky Pineapple's last interview, I brought the band into ear-X-tacy as an inspiration to talk about their musical influences. The only rule is that whoever catches the beach eyeball must extend upon the artist and album they choose to discuss. Although trombone man Dan couldn't find what he was looking for, an on-the-spot review of Tyler, the Creator's "Yonkers" did suffice.
Joining us to sendoff the band on Friday are locals Ultra Pulverize who have performed with Lucky Pineapple several times in the past. As we celebrate their existence and impact on Louisville's music scene, let us not forget what will become of its fragments later on. Hold on a little tighter to your yellow wax copy of The Yellow Belt and recall the good memories you've undoubtedly experienced from past Pineapple shows. Now savor it.
Lucky Pineapple will perform their farewell show with Ultra Pulverize on Friday, May 20th at Headliners Music Hall. Tickets on sale now through ear-X-tacy, Headliners box office, and Etix.com. $8 adv./$10 day of show. 18+ with I.D. Doors @ 9 PM.