Tech N9ne says that 6's and 7's stands for disarray and confusion. After rolling through Louisville last night with a crew of fellow artists off his label, Strange Music, some [children] might have felt that way.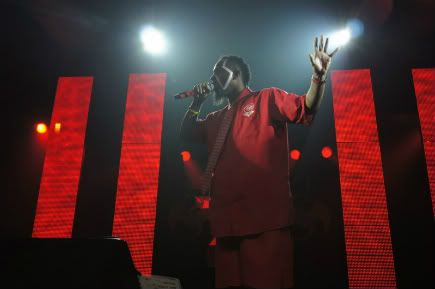 8.3.11
There was already juggalo drama afoot upon my arrival to
Expo 5
, a venue that strangely resembles a deserted carnival even when no
ICP
fans are around. Offhand comments from police proved this to be the norm- "This is like an ICP crowd…" while a group of well decked-out fans were escorted outside the gates before the show kicked off. I found comfort in seeing younger fans, hoping that this would entice rowdy adults to calm their shit. Unfortunately, the term All Ages is only meaningful to those who haven't quite peaked enough to buy cigarettes yet.
Tech N9ne rolled through Louisville last night with a large crew of fellow rappers to support his headlining tour, but they reassured us this was a party and not merely a performance. Stevie Stone initiated the night's baller vibe, layin' out the crunk…and yelling. The following act Mayday! succeeded at appeasing both rock and hip-hop lovers with their Beastie Boys delivery and ska/punk style, though it did border dangerously along Limp Bizkit territory.
Jay Rock did a brief set with material from his latest Follow Me Home, but brought nothing memorable besides an intense flow spat on his closing song. Kutt Calhoun was able to raise several hands with his single "Buy the Bar" and eventually Stevie Stone got back onstage as well. It appeared as though everyone had each other's backs within stage banter that occasionally felt like watching a conversation aimed directly at us. Upon opening or closing a set, each artist dedicated their performance to a deceased fellow with the mysterious initials M.J. The party was for him.
However grueling it may sound, the slew of opening acts didn't faze the patience of Tech N9ne fans. He entered the stage through an automatic door built within the giant red 9 that stood behind him, wearing matching Strange Music jumpsuits with the 816 Boys who are known for accompanying him on the single "Areola." I definitely had the female advantage as Tech gave my camera extreme eye contact and followed my movement in front of the stage. The set was a chopped mix of old and new material, busting out with the first verse of "Worldwide Choppers" as he warmed up the crowd. There was no avoiding that some incarnation of "Midwest Choppers" would make an appearance (which has become a Technition anthem), but they only went as far to throw down part II in its entirety. "Psycho Bitch" was interrupted with "Psycho Bitch II," and "Red Nose" was performed humbly by Tech sitting down. "Come Gangsta" also brought forth the unifying pride that this fan base shares. Of course, any fan could tell you what Tech N9ne's favorite drink is; so when it was time to sing the ingredients in "Caribou Lou," nobody had to tell the bar twice. On perfect timing, a pale yellow mixed drink was passed up to the stage once the song had concluded. Eventually it broke down to a mad-lib test of who Tech N9ne's real fans were as he recited random lyrics from older songs like "Dysfunctional" to "Low" and allowed the crowd to fill in the blanks.
Things started getting pretty sloppy in the crowd and Tech definitely had this in mind while determining his setlist. 1) Convince everyone it's a party, 2) Bust out "Areola," 3) Demand women to flash titties. One poor soul ended up on stage lugging a pair of size infinite DD's on her chest and showing them to whomever didn't already have their head turned away. Even with this vague excitement, the show remained pretty anti-climatic until the evening came rolling to an end and he sang an excerpt from an unreleased track called "F.A.N.S."- You are my heart/you are my soul/Thank you for all you've done for me. The big finish: Tech passing out free cans of Monster and a recital of The Pledge.
But just look at these photos!
*This article also posted on
Louisville.com