Everyone is making lists this time of year, so I wanted to craft one of my own. Usually this would be when I make a Best Albums of 2010 type of deal, but for the past year I've been really caught up in other things. It almost feels like I've been in a hole, listening to only a small fraction of good records that have come out in the past decade. This, among other things, also leads into why Huevos isn't as active as it used to be.
In October I got hired as a music writer to Louisville.com, my first real job in the journalism field. It was hard getting accustomed to writing articles so frequently, but I also feel that it has definitely improved my abilities, especially when it comes to being punctual. Therefore, most of my literary energy is taken up writing for their site rather than my own. I hope to avoid this becoming a problem in the approaching year, though it's hard to say how I'll feel about things by then. But despite being completely out of the musical loop, I still found a few records that really meant something to me during this stressful time of my life. So instead of trying to keep up with the usual line of 2010's most anticipated albums, I sought out records that were released relatively closer to the year I was born, in an attempt to re-connect with what came along in the decade I hardly remember. Obviously a majority of these turned out to be from the 90's, but I did find a few modern gems that I could probably see myself listening to years from now. They accompanied me through a difficult year, and I expect
them to help me through the next. Below is a list of those records.
Boston Spaceships- Planets Are Blasted (2009)
If I haven't made it obvious enough yet, I'm a huge Robert Pollard fan. That isn't to say I suck dick on everything he releases, but I find myself continually influenced by his songwriting and musical style. Although I've liked Guided by Voices for a while, 2010 is when I really got into his other band Boston Spaceships. Along with the GBV classic lineup reunion, Pollard and the gang also managed to squeeze out a new Spaceships album this year titled Our Cubehouse Still Rocks, which I really liked too. Planets Are Blasted is a pretty straight-forward rock album, like a refined GBV with more cohesive songs and structure. What makes it really golden is how fresh Pollard can still make his songs sound, even if he may rehash a few melodies here and there. Fortunately, there's no re-hashing here.

Camper Van Beethoven- Telephone Free Landslide Victory (1985)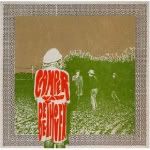 I remember doubting that Telephone dated back to 1985 the first time I heard it. Coincidentally, the same thought immediately came to mind when I heard 89's Key Lime Pie. It's clear that Camper Van Beethoven were ahead of the alternative curve that was to hit mainstream in the 90's. By that time, frontman David Lowery had already left Camper and went on to be co-founder of the more traditional rock band Cracker. I
came across a vinyl copy of
Telephone
a few months ago and it's been one of my favorite music purchases this year (right behind the German pressing of Pink Floyd's
Animals
on pink vinyl, obviously.)
Porno for Pyros- God's Good Urge (1996) and Porno for Pyros (1993)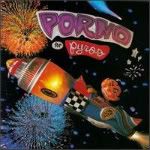 I lump these two albums together because that's usually how I would listen to them: one right after the other. After being unfairly hesitant about liking Jane's Addiction, a friend of mine s
uggested I listen to Perry Farrell's other stint in Porno for Pyros. The first time I heard "Pets," I knew there was already an emotional connection I felt with this music. This somewhat instigated a search for more early 90's/late 80's music that could make me feel this way. I was looking for music that was released during the time period of my childhood because recalling those years has always felt sort of dreamlike to me. These albums were like flipping through a photo book that I don't remember, but I learned something about myself
anyway.
Silver Jews- American Water (1998)
I guess you could say 2010 is when I started appreciating more boring 90's indie rock. Silver Jews aren't boring to a bad extent, but David Berman's singing voice always makes me want to fall asleep; perhaps it's the monotone, or too laid back. I do appreciate the occasional Stephen Malkmus vocals that pop up around their albums, though. Maybe that's what keeps me awake? In any sense, I love American Water and Starlite Walker.
Silver Jews are clearly still engaging enough.
Danger Mouse and Sparklehorse- Dark Night of the Soul (2010)
There really couldn't have been a more exciting collaboration of effort than on Dark Night of the Soul. A cascade of music heroes including Wayne Coyne, Iggy Pop, Frank Black, Jason Lytle, James Mercer and several others each contributed their talents as tribute to the late Mark Linkous of Sparklehorse. All visual artwork for the album was done by David Lynch, who even himself provided vocals for two eerie songs on the record. What also made this special was the boxset (limited to only 5,000 copies) that included a hand-numbered book of photographs taken by Lynch; he referred to this as a visual narrative for the music. It makes me happy to listen through this record and know that it was done in spirit of Mark.
I believe he would have loved its outcome, too.
Technology vs. Horse- Four Against the Minotaur (2007)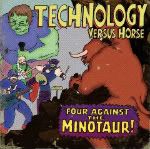 Technology vs. Horse were the first band I interviewed for Louisville.com and one of the first band's that I've gotten to know personally. The band began to get a lot of press after winning a local Battle of the Bands competition, so I decided to take advantage of my connections and do a more in-depth perspective. Though, I must admit that I didn't really appreciate them until I witnessed their performance at Derby City Espresso back in July. They play a killer show and I don't think anyone can really get them unless they experience it too. They've got a really special thing going. I hold a lot of high hopes for this band and I will continue to log their success along the way. Four Against the Minotaur is my favorite of their three official releases, but I do have a weak spot for their debut Teddy Jam, silly as it may be. Louisville people take note: get to know this band! Then book them.
Sun Kil Moon- Admiral Fell Promises (2010)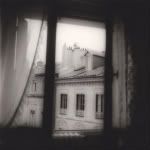 Mark Kozelek's brand of folk music is often easily overlooked for its length. Most don't expect an extended folk tune to be exciting, and it's not, but there is a beauty within the subtlety of his songs. He represents complete respect towards the ways of finger-picking and clearly shows that he has already mastered this liberating technique. The only thing that may unsettle you is the heavy weight of emotion that he exerts into his music. Sometimes the downer is too down, and I often find myself becoming more depressed as the album goes on. Admiral Fell Promises has been a comforting companion to me this year as I've had more sleeping problems than usual. It has also been an emotional comfort when needed. It's simply too easy to keep yourself from connecting to these melodies, but
Kozelek comforts you all the way through.

Slint- Spiderland (1991)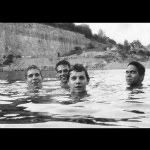 Time and time again, Spiderland keeps popping up into my life significantly. Earlier this year I wrote an extended article about this legendary album for A Future in Noise, and it's the first record I've owned on vinyl, CD and digitally all at once. You know how people have musical identities? Maybe not, but I feel like Slint could very well be part of mine. I've delved a lot deeper into writing music this year than I ever have. It's actually gotten to the point where I'm fooling around on guitar more than I'm on the internet. Slint has been a big part of my year in that respect, because they're such a big influence on what I create. Discovering them has been one of the best things I've picked up from living in Louisville. So in a weird sense, I feel extremely connected to them. I've listened to Spiderland many, many times and the music still sounds fresh to me. It takes a really great piece of art to still
have such an impact to come back to.


The Smashing Pumpkins- Adore (1998)
Nathan Rich at Sexy Kangaroo sent me a copy of Adore on cassette tape over the summer. I figured I would give it a listen through because I realized that I haven't actually listened to an entire album on tape before. (I don't really consider the audio spanish lessons and sing-a-longs of my childhood to suffice as actual albums.) Because of this, Adore has become my favorite Pumpkins records thus far. When I caught them playing at the annual Forecastle Music Festival, it was more like Billy and the Corgans if ya feel me. And as expected, the only song they played from this album was "Ava Adore." I do give
Billy points for letting the audience pummel him with hundreds of glow sticks; it's become a fond image in my mind.

Pavement- Wowee Zowee (1995)
2010 was definitely a Pavement year for me, and it was definitely a Pavement year for them too. My favorite collection of their songs comes from side two of the Crooked Rain reissue L.A.'s Desert Origins. I didn't realize until later that a lot of those songs were also on Wowee Zowee, one of Pavement's more bizarre efforts. I was fortunate enough to catch the band on their reunion tour when they played the Pitchfork festival, suitably synched up with the time I really started getting into them. The show was great from my perspective, but not great enough for me to keep Stephen Malkmus in my sight the entire time. Although I had only gotten familiar with Pavement at the beginning of the year, at that moment I felt like I was reliving something too. Like so many who spoke of their 90's shows, there was this uncontrollable giddiness that I felt before, during, and after the performance was over.
I walked away feeling both incredibly sad and satisfied, along with another checked box on my list of life goals.
Deerhunter- Halcyon Digest (2010)
Bradford Cox has had some bad luck with web sheriffing assholes in the past, but luckily they will be distracted enough with the release of Deerhunter's Halcyon Digest to not fool around with free Atlas Sound. Ever since the single "Helicopter" was released prior to the album, the anticipation was still almost impossible to withhold, and you could feel it around you. Halcyon was everything I hoped it would be, even far outshining 2008's Microcastle. Deerhunter seem to be the kind of band that continue to improve over time, and who can enrapture you in new experiences with every record they release.
There's a reason why Halcyon Digest persists to pop up in everyone's lists this year.

Cass McCombs- Dropping the Writ (2007)
Cass McCombs was one of the first acts to play at this year's Pitchfork Music Festival, and my first one attended. After a rainy stint, the weather finally cheered up enough to provide a tolerable climate the remainder of the entire day. It was the first time I ever heard the word "Chicagwa." Dropping the Writ has become a
favorite of mine over the summer, and it really exhibits McCombs's ability to belt it out beautifully. I'm still working on hitting the high notes in "Windfall."


Captain Beefheart & His Magic Band- Trout Mask Replica (1969)
It was only a little over a week ago that Mr. Don Van Vliet (a.k.a Captain Beefheart) passed away. After his death went public, I spent the day listening to Trout Mask Replica for the first time and felt foolish for not checking out these things sooner. I was familiar with "Willie the Pimp" and Bongo Fury, but nothing that wasn't Zappa related. I believe I am probably one of many who will hear about his death and discover these musical gems. Like several before him, the captain will finally get the recognition he deserves.
Honorable Mentions:
Freddy K-
Stand by the Sea for Good Luck
(2004)
Chavez-
Gone Glimmering
(1996)
Boston Spaceships-
Our Cubehouse Still Rocks
(2010)
Guided by Voices-
Universal Truths and Cycles
(2006)
Stephen Malkmus & the Jicks-
Real Emotional Trash
(2008)
The Black Keys-
Brothers
(2010)
The Cranberries-
To the Faithful Departed
(1996)
Swans-
Cop/Young God
(1984)
Jane's Addiction- Nothing Shocking (1988)