Music. Math. Noodles.
The Chicago-based Maps & Atlases emerged after meeting in school at Columbia College where they were heavily inspired by the thriving arts scene around them. After releasing two EPs of noodle-heavy, spastic pop songs, their full-length debut,
Perch Patchwork
, took a different turn — the studio environment guided their sound down creative avenues they couldn't have imagined. LEO caught up with singer/guitarist Dave Davison to discuss the new record and the importance of good food.
Your debut departs from the noodles of your earlier EPs; do you consider this to be the defining record for Maps & Atlases right now—or do you see yourself developing later on into something different?
From the beginning we were all sort of interested in experimenting with lots of different techniques, rhythms and aspects of music to try to be unorthodox. I think that we always wanted to write songs that were meaningful and catchy, and fun at the same time they were intellectually stimulating. I think this album is a continuation of that. The end result seemed a lot less jarring in some ways. I'm not sure exactly what we'll still write in three years; I'm really excited to delve into that.
So, you'd say that your creative process is more of feeling things out?
Yeah, at least for
Perch Patchwork
, we were seeing what avenues that songs went down in the process of creating them.
Would you say that your live shows have become more improvised too?
They're definitely calling it that. I think it's interesting, because when we first started, the concept of ever improvising and jamming wasn't something we would've really envisioned in the kind of show we were doing, but we loosened up a little bit.
In another interview you said all of you had an influence from 70's psychedelic jams. For you, what was the defining record that made you want to be a musician?
I think if I had to choose an artist that made me want to be the kind of musician I am now, it would have to be David Bowie. Just because after discovering his records that my parents had when I was high school, it was all I ever grew up listening to. It just all of a sudden clicked for me in that way and really opened up a lot of different doors to me. Listening to David Bowie definitely was connecting a lot of dots in music that led me to where I am now as a songwriter and singer.
Have you ever been inspired by fine cuisine?
I totally have been. Being on tour and going to restaurants is the big highlight of going on tour for me just cus you can seek out different places. It's kind of like how we're able to find neighborhoods and remember how to get places, and I think in a lot of ways, we're kind of a food centric band. A lot of our tour activities center around that. We're mostly vegan or vegetarian band, so a lot of times we get really excited about seeking out a vegan place. I don't necessarily write too much about food specifically, but a lot of times going in and seeking out food leads to the kind of experiences that are inspiring as opposed to a fast food restaurant on the edge of town.
So you have a pretty large palette.

Yeah, I would say so, definitely. I get mostly excited about spicy food, Thai, Indian, Ethiopian...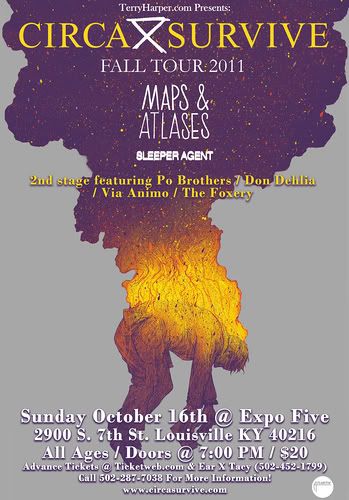 Maps & Atlases perform with Circa Survive and Sleeper Agent at Expo 5 on Sunday, Oct. 16. Show at 7:30PM, $20. Tickets available through ear-X-tacy and TerryHarper.com
*This is an extended interview. Read the condensed version at
LEOWeekly.com